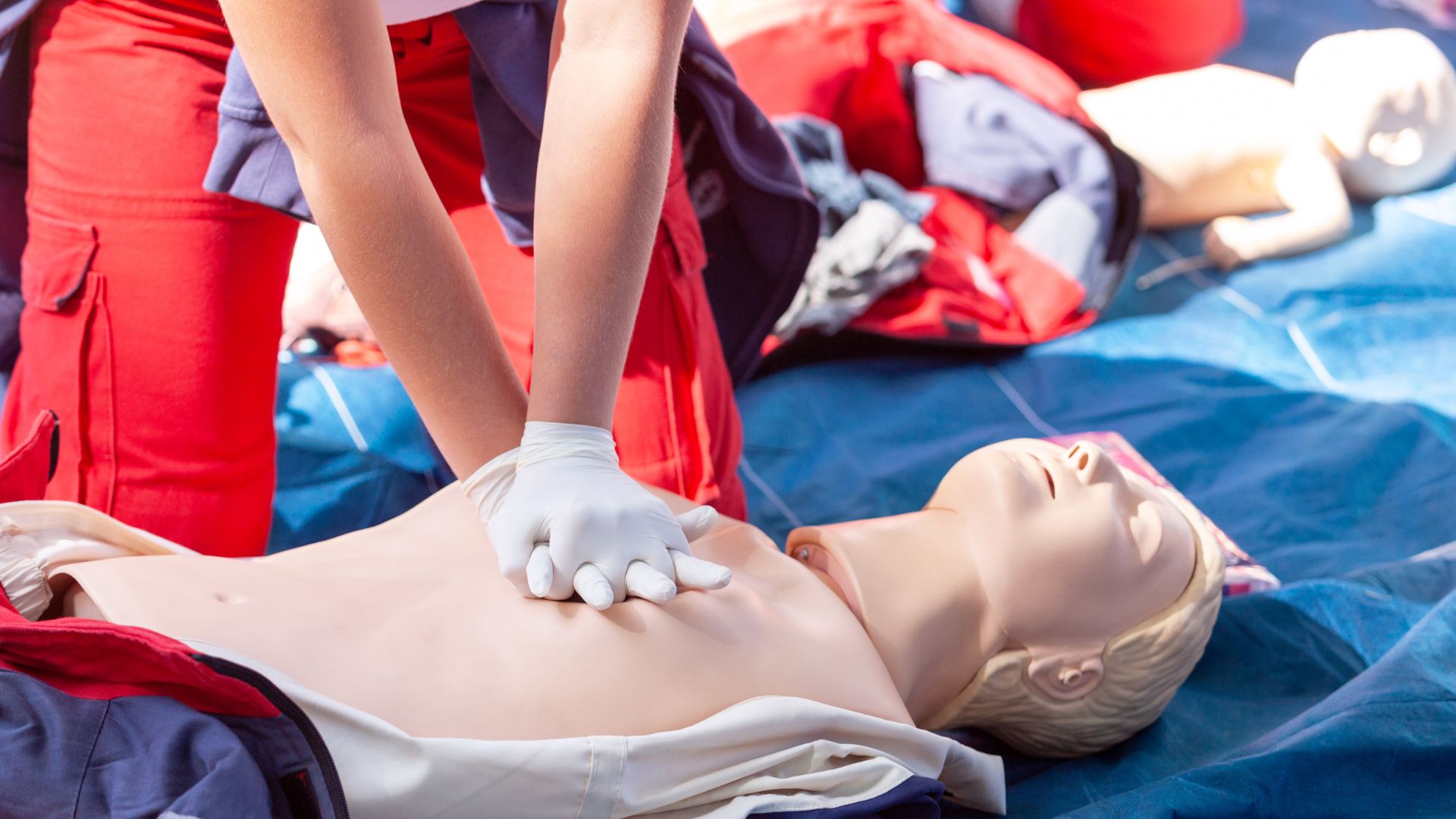 Without a CPR certificate, a person cannot become an EMT. The core responsibilities of EMTs include ensuring victims remain alive at the place of the accident and survive the ride to the hospital. This includes providing basic first aid like CPR.
Performing CPR is a delicate and complex technique, so going through classes will not only guarantee you're doing it right – it'll help you build and strengthen your skills.
If you're training to become an EMT and are searching for CPR certification courses in the Charleston region, you can make your pick between online or regular classes. Read this detailed guide to discover how to get CPR certification for EMT in Charleston hassle-free.
General Overview of CPR Certification for EMTs
EMTs are the most common type of EMS, which means they must be trained in CPR. An individual cannot become an emergency medical technician and respond to emergency calls without CPR training and certification.
The best way to learn how to perform CPR is through a course held by a reputable association, like the American Red Cross or the American Heart Association.
At the end of a CPR course, the candidate is granted a certificate that proves they are capable of administering CPR, first-aid, AED, etc. For this certificate to be valid, the course must involve physical training – more on this later.
What Type of CPR Course Is Available for EMTs?
The CPR course tailored for EMTs is all-inclusive, meaning you don't have to get certified in infant, child, and adult CPR separately. It is called a BLS (Basic Life Support) for Healthcare Providers and teaches future EMTs all basic life support skills, including CPR techniques for all demographics and AED use.
These courses follow the AHA Guidelines for CPR/ECC and are regularly updated to match the latest standards for CPR and AED.
Each CPR class duration depends on the location, attendees, instructor, and schedule, but one class can stretch between 3 to 5 hours. The CPR certification course will cover everything concerning basic life support, like:
Medical and trauma emergencies
CPR on infant, child, and adult
Multirescuer resuscitation
AED on infant, child, and adult
Airway ventilation for infants, children, and adults
Pharmacological interventions
Relief of foreign-body airway obstruction (choking) for infants and adults.
Once the practitioner completes the classes, has demonstrated CPR techniques successfully, and has passed the final exam, they receive a CPR certification. The CPR certification for EMT lasts for about two years, and then you can get re-certified by taking a short refresher course.
CPR Certification for EMTs: What You'll Learn
Unlike bystanders, as an EMT, you have a set of responsibilities at the place of an accident. It is also important to keep your cool in these situations and administer first aid without hurting the victims.
Here's what you'll need to master to earn your CPR certification and find employment:
When to Spring Into Action
The CPR skills taught in these classes cover signs like when to know to spring into action and when to ask for additional help. When the CPR classes are finished, the newly-established EMT is considered capable of saving lives.
The occasions where an EMT does not have to rely on CPR skills are rare, so in addition to saving lives, knowing CPR can improve victim outcomes. For instance, the classes also teach you how to maintain blood flow and prevent brain damage or deterioration of vital organs until the victim arrives at the hospital.
How to Perform Chest and Finger Compressions
The critical part of performing CPR are the chest and finger compressions. As the most sensitive step of CPR chest compressions are done at specific time periods with interruptions and rescue breaths. Usually, the course will have participants practice CPR on a dummy and show their strengths and weaknesses.
The most important part of CPR classes is learning the techniques necessary to assist during a cardiac arrest. The course provides detailed info, visual tasks and descriptions of the right way to perform CPR.
The general rule is to place the heel of the hand on the center of the person's chest with the other palm on top and press down by 2 to 2.5 inches deep. The compressions rate is 100 to 120 compressions a minute for adults. The key is to give 2 rescue breaths after every 30 chest compressions.
How to Use an AED Machine
Every EMT is well familiar with an AED (automated external defibrillator), which is used to deliver an electrical shock and restore a proper heart rhythm. Using an AED device is recommended when CPR proves ineffective.
In BLS classes, you'll learn all about professional-use AEDs and how they work. Every reputable CPR certification course includes a combination of AED use training and traditional CPR instructions.
How to Locate a Pulse
If the victim is unconscious or injured, pulse regulation is imperative to keep someone alive. Therefore, checking for a pulse and being able to locate it are some of the things instructors teach during CPR lessons.
The pulse should be checked after every 2 minutes, and the EMT can locate it by placing the index and middle fingers on the side of the neck, right around the smooth, hollow area beside the windpipe. Check the time and count how many beats you feel in a minute.
How to Perform Rescue Breaths
Rescue breaths are a technique that is a part of CPR and first aid and is practiced when a person has stopped breathing. It was previously called mouth-to-mouth resuscitation because it involves blowing air into a person's mouth to maintain oxygen levels and keep them alive.
During CPR courses, every EMT learns that after every 30 chest compressions, they have to give 2 rescue breaths. The procedure also involves tilting the victim's head and lifting the chin with two fingers. The next step is to seal the patient's nose and place the mouth over theirs while blowing firmly and steadily into their mouth for 1 second.
Where to Find CPR Certification for EMTs
There are two ways to get a CPR certificate, and that's through regular and online classes. If you want to join other EMTs on the journey to learn CPR, you can visit clinics, community centers, schools, and other similar locations.
There is an option for busy folk as well in the form of online demonstrative and interactive CPR classes. Although CPR classes are available throughout the State, if you live in Charleston, you should contact your local first aid centers or check out some of the classes we'll talk about below.
Costs of CPR Certification for EMTs
CPR certification for EMT costs a bit more than regular CPR classes for those who want to be trained bystanders. This is because BLS classes are technical and blended most of the time. For example, Red Cross BLS courses in Charleston, SC, range from $80-$92.
The median cost of AHA CPR classes is $50, with prices ranging from less than $10 to $200 overall. Note that the price will vary depending on the provider of the course and that you'll never find a legitimate BLS course under $50.
How Long Do These Courses Last?
The duration of a course depends solely on its format. For example, blended courses require you to take the theoretical portion of the course online, which is done in an hour or two. The practical component of the course is done on-site in about 4.5 hours.
Final Words
CPR training will provide the necessary skills and confidence to start your EMT career – without it, you can't seek employment in the medical sector.
There are designated CPR courses for future EMTs called BLS courses, which equip you with all basic life support skills. In these courses, you'll get hands-on practice for CPR and AED use, as well as step-by-step instructions on giving CPR.
Most BLS courses come in a blended format, which means you can finish the theoretical part online and go into the training center to prove your skills. This type of course costs more than your average bystander CPR course, and you won't find one for under $50 in Charleston.
Remember to always seek credible courses that follow AHA standards.